Welcome to Connecticut Modern Arnis Jujitsu (CTMAJ)! CTMAJ is dedicated to providing high quality training in a safe and positive environment. At CTMAJ you will start by learning the fundamentals and core concepts of Modern Arnis Jujitsu and you will learn in an easy step by step progressive manner from beginner level through to advanced level. You will learn effective self defense techniques while also enjoying many beautiful techniques the art has to offer.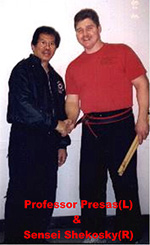 Our Master Instructor, Frank Shekosky, has made a deep personal commitment to keep his training in line with the beliefs of his teacher, the founder of Modern Arnis, Grandmaster Remy A. Presas. You will learn the art as it was passed down to Sensei Shekosky, along with some of Sensei Shekosky's own innovations.

You will enjoy training in classes full of information, professional instruction, with lots of fun. Come and experience "the art within your art." Modern Arnis Jujitsu is not intended to replace any existing art that you may already study, but will enhance or assist you in your current training. If you do not have previous martial arts training, Modern Arnis Jujitsu does have it's own belt ranking system and can easily stand alone as it's own Martial Art.

Contact us today to begin your training with the Connecticut Modern Arnis Jujitsu family!