About Connecticut Modern Arnis Jujitsu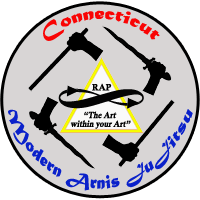 The headquarters for Connecticut Modern Arnis Jujitsu is located at 871F Newfield St, Middletown, CT 06457. The Master instructor is Sensei Frank Shekosky, a personal student of the late founder of Modern Arnis Grandmaster Remy A. Presas.
CTMAJ is dedicated to providing quality training in a safe and positive environment. Membership is available at the student level or as a chartered school. Instructor certification may be achieved and you may qualify to teach the CTMAJ curriculum in your school and host seminars at your school.
The CTMAJ curriculum includes the art of Modern Arnis that was personally instructed to Sensei Shekosky by Grandmaster Remy A. Presas along with Sensei's own innovations. Rank testing and instructor certification under the CTMAJ curriculum are available. Sensei Shekosky's curriculum has been taught in other schools, States, and Countries.
CTMAJ welcomes students both from Connecticut and from out of state and our classes foster not only development of Martial Arts skills but also goodwill and friendship with anyone that likes to learn. Weekly classes meet at the headquarters each Monday from 7:45pm – 8:45pm. Periodic seminars are scheduled and private lessons are also available. Modern Arnis home training videos are available.
Class tuition is currently $10 per class. Please call in advance to schedule your session. Registration as a CTMAJ student or Charter school is also available.
Contact us today to start your training with us!